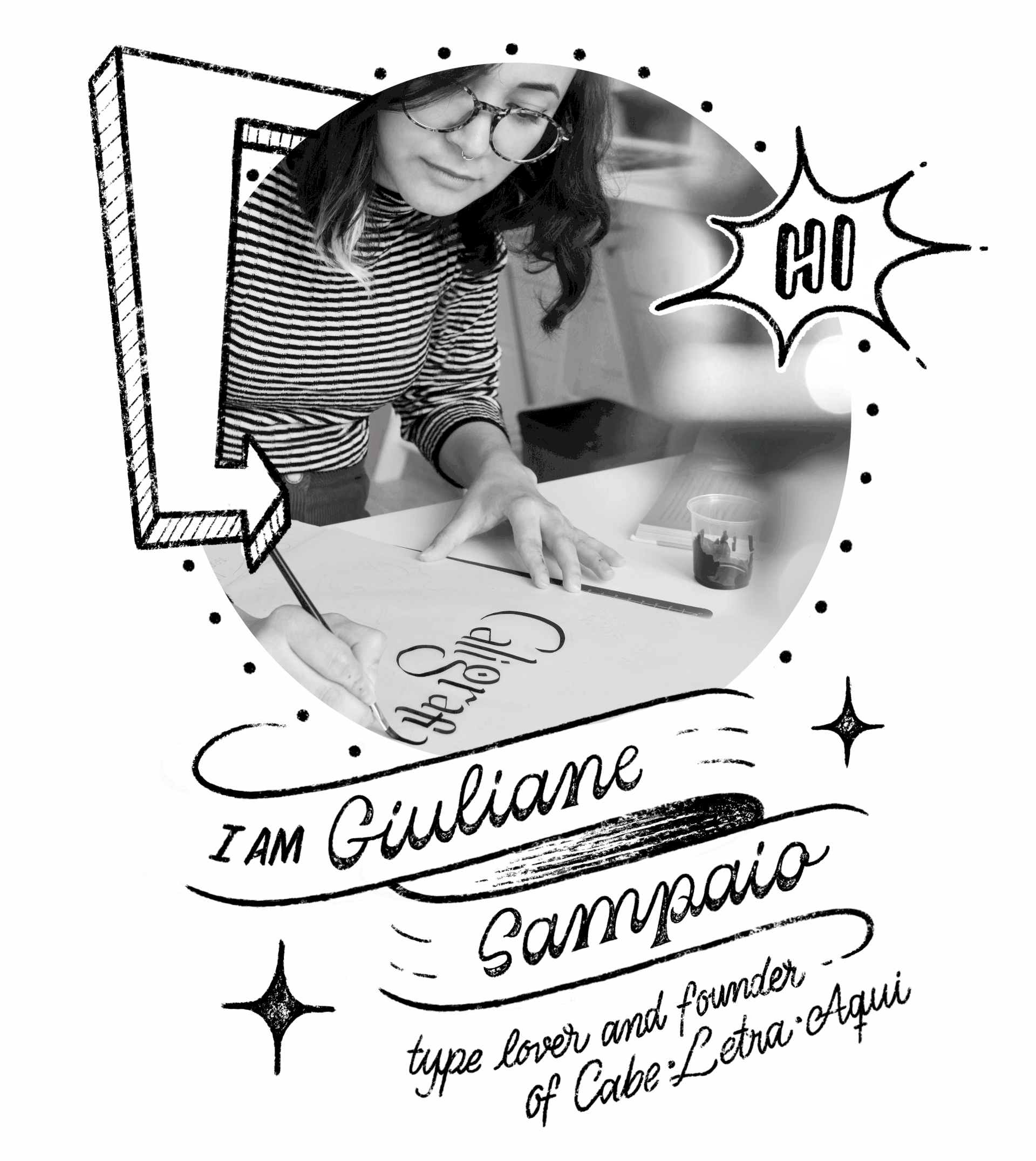 Letters can inhabit any space 
that expresses the lack of a "voice" 
and when personalized, that voice can expand
an experience and connect people.
I dedicate myself professionally to this art and craft since 2014. I believe that singularity can be translated by manuality. This is why I rescue the manual process with the mission of manifesting a singular voice in the letters of every project I do. My work explores a repertoire 'without frontiers', combining calligraphy and lettering techniques in a variety of surfaces - or digital. To deliver authenticity, I make a targeted study, in order to reveal the visual potential that a word or message can assume.

In addition to Design, I also obtained my experience from collaborating with the Brazilian collective
Tipografeed
for some years. This complementary training pushed my skills forward, as well as the constant contact with other professionals who foster the typographic community. They made me discover the pleasure of sharing what I learned. In 2016 I started giving workshops in Brazil, and since 2018 I have been holding them in
Porto, Portugal
.
​​​​​​​
As letras podem habitar qualquer espaço
que manifeste a carência de uma "voz" 
e ao serem personalizadas, essa voz pode expandir
uma experiência e conectar pessoas.
Dedico-me profissionalmente a essa 'arte e ofício' desde 2014. Acredito e ouso dizer que manualidade pode traduzir singularidade, não por acaso, faço esse resgate do processo manual com a missão de manifestar nas letras, 'uma voz singular' em cada projeto que realizo. Meu trabalho explora um  repertório 'sem fronteiras',  que combina técnicas de caligrafia e lettering  em suportes variados (feito à mão) ou digitalmente.  Para entregar autenticidade, faço sempre um estudo direcionado, afim de  revelar todo o potencial visual que uma palavra ou mensagem podem assumir.
Além do Design, parte da minha experiência obtive também ao  colaborar por alguns anos com as atividades do coletivo brasileiro Tipografeed. As formações complementares também renovam meus skills, e consequentemente, o contato com outros profissionais que fomentam a comunidade tipográfica, fizeram-me descobrir o gosto em partilhar o que aprendi. Em 2016, passei a realizar meus workshops no Brasil, e desde 2018, organizo alguns no Porto, Portugal.
2019


Master's student in Graphic Design and Editorial Projects, FBAUP
(Faculty of Fine Arts of the University of Porto)
2014 - 2016


Graphic Design Degree, SENAC
(Goiânia, GO - Brazil)
2007 - 2010


Advertising Bachelor's Degree, Uni-ANHANGUERA
(Goiânia, GO - Brazil)
DiaTipo Goiânia, Brazil  | Edition organized by Tipografeed 
- "Tipos Populares & Estilo Chillante"  Worskshop | By Carga Máxima
2017


Lettering Chalkboard Workshop | By  Cris Pagnoncelli
(Goiânia, GO - Brazil)



2014


Brush Pen Letters Workshop | By  Jackson Alves
(Goiânia, GO - Brazil)
2014


Lettering  Workshop | By  Grande Circular
(Goiânia, GO - Brazil)
2013


Workshop Fundamental Calligraphy | By Andréa Branco
(Goiânia, GO - Brazil)